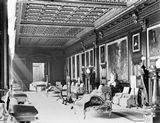 © RIAS
View of long gallery from east
The long picture gallery, which had taken up the entire first floor of the main or north block of the late 17th-century palace, remained a major feature of the 10th Duke's monumental edifice, overlooking the south court but now masked on its window-less north side by his massive additions of the 1820s. Inside, the 35.7m-long gallery received not only some of the 10th Duke's own prize treasures, including a canopied throne, but also two replacement chimneypieces and a new grand entrance. The deeply coffered (sunk-panelled) ceiling and panelling were also heavily refurbished to the extent that this room in effect became yet another monument to his intervention.
This photograph of about 1890 shows some two-thirds of the gallery looking from a point in front of the throne across shafts of sunlight towards the entrance in the west end wall. In the north or main picture wall (right) the pair of black marble chimneypieces and the Rubens painting are clearly visible, while the gallery chairs and sofa are shrouded by dust covers. In the centre of the west end wall is the pedimented architrave (surround) of the grand entrance doorway, wrought from black marble and framed by columns of green porphyry, discernible here against the dark background, a composition that was evidently unique in Europe. Beyond, through the open door, is the top-lit and balconied tribune which forms a linking ante-chamber between the gallery and the new dining room further to the west.
The 10th Duke's passion for marble, especially pure black Galway marble, was in evidence throughout the palace, and his deep interests in Egyptology gave him a special taste for porphyry, a rare and precious crystalline rock of Egyptian and Numidian (Tunisian) origin. In addition to the door-shafts of green porphyry, red porphyry busts of Augustus and Tiberius flanked the ambassadorial throne, purple porphyry was used for table tops, and two columns of black porphyry, also associated with the gallery doorway, had ultimately derived, via a church in Viterbo, from the Basilica di Semproneo in Ancient Rome.