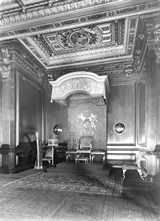 © Country Life Picture Library
Alexander, Marquess of Douglas and Clydesdale (later 10th Duke of Hamilton) was appointed British ambassador to Russia in May 1806 and served as ambassador in St Petersburg between late January and June 1807.
On his return, Alexander set up his ambassadorial throne and canopy, decorated with the arms and initials of King George III, at the east end of the Long Gallery of Hamilton Palace. He also used the large ambassadorial silver service -issued by the Royal Jewel House and engraved with the Royal Arms and the arms of the Dukes of Hamilton -as his principal dining service.
Alexander further underlined his status and power by hanging official full-length portraits of King George III and Queen Charlotte by Allan Ramsay on each side of the throne, and by displaying two impressive and rare porphyry busts of the Roman Emperors Augustus and Tiberius close by. The paintings and busts were included in the 1882 Hamilton Palace sale, while the throne and canopy remained in the palace until the final sales in 1919.