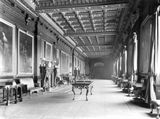 © Country Life Picture Library
View of long gallery from west
Of the late 17th-century interiors which survived the programme of enlargement and enhancement carried out by Alexander, 10th Duke of Hamilton (1767-1852) and the architect, David Hamilton (1768-1843), few escaped embellishment. The long picture gallery, which had taken up the entire first floor of the main or north block of the late 17th-century palace, remained a major feature of the 10th Duke's monumental edifice, overlooking the south court but now masked on its window-less north side by the massive 1820s additions. Inside, the 35.7m-long and 6.7m-wide gallery received not only some of the 10th Duke's own prize treasures, including a canopied throne, but also two replacement chimneypieces. The deeply coffered (sunk-panelled) ceiling and panelling were also heavily refurbished to the extent that this room in effect became yet another monument to his intervention.
This Country Life photograph of 1919 shows some three-quarters of the gallery looking towards the throne room at the eastern end. The north or main picture wall (left) contains the pair of black marble chimneypieces which had been installed by the 10th Duke within panelled bays which retain their late 17th-century character. In the distance, set within a recess at the eastern end of the room, is the canopied throne brought back from the British Embassy in St Petersburg, Russia, where the 10th Duke had used it whilst serving as Ambassador to Russia in 1806-7. To salve the aesthetic sensibilities of 'their readership', much of the rest of the furniture in this photograph had been introduced by the Country Life team who went to the trouble of replacing the gallery sofa and a long set of cabriole- (curved-) legged chairs which the 10th Duke had had reconstituted 'with deplorable results'.
As this photograph clearly shows, paintings were hung between the windows on the south side wall but the majority, most of which are portraits and all of which are identifiable, are hung on the north wall. Pride of place goes to the large canvas between the two fireplaces: Daniel in the Lions' Den by Sir Peter Paul Rubens (1577-1640), a masterpiece which had already been sold in 1882 and subsequently bought back for the Hamilton Collection.