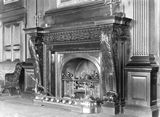 © Country Life Picture Library
Alexander, 10th Duke of Hamilton (1767-1852), developed a love - indeed, an unhealthy passion - for Irish black marble, from quarries situated near the city of Galway, on the west coast of Ireland.
As part of the refurbishment of the old palace in the late 1820s / early 1830s, Alexander decided to install two colossal chimneypieces of black marble in the Long Gallery and to erect a black marble doorway with porphyry columns at the west end of the gallery.
These chimneypieces really were colossal: 1.95m high by 2.56m wide by 1.13m deep. They were in a hybrid Neo-Baroque / Neo-Classical style, with acanthus-clad volutes, a frieze of oak leaves and acorns bound with ribbon, egg-and-dart borders, and foliate and beaded ornamentation. Similar, smaller, chimneypieces were set up in other rooms in the old state apartments. The chimneypiece from the Drawing Room was acquired by the National Museums of Scotland in 1991-92. The two chimneypieces from the Long Gallery were in New York in 1970, but their present whereabouts are unknown.