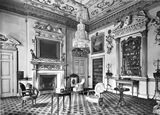 © Country Life Picture Library
Duchess's boudoir
The interiors of the east wing, which was the last part of the late 17th-century 'Great Design' to be erected, probably still remained unfinished in the 1730s. By at least the early 1740s, however, they had become the focus of attention of the architect William Adam (1689-1748) and his stuccoist, Thomas Clayton, then engaged by the 5th and 6th Dukes of Hamilton (1703-43, 1724-58) on a major building programme at the ducal hunting lodge of Ch'telherault.
This Country Life photograph of 1919 is of the 'Duchess's Boudoir', the first-floor room in the middle of the east wing, marked as 'Anti Chamber' and 'Drawing Room' on the plans of c.1730 and 1921 respectively. Like other rooms in the same suite, it retains a richly decorated interior by William Adam and Thomas Clayton, doubtless embellished by the 10th Duke. The ceiling is of white and gold panelled stucco with a crystal chandelier at its centre. The principal feature of the room is a decorative alcove or cabinet in the east side wall (right) which is framed within a Classical entablature with engaged columns of Corinthian Order and an open pediment. The chimneypiece also has an open-pedimented overmantel with painted centrepiece.
The duchess in question is Duchess Susan (1786-1859), who in 1810 married Alexander, later (in 1819) to become 10th Duke of Hamilton (1767-1852). Born at Vevy in eastern France, she was daughter of the wealthy and eccentric aesthete, William Beckford (1760-1844). Throughout her suite of rooms the prevailing colour scheme for the upholstery and carpet is blue and gold with an underlying French theme made manifest in the fleur-de-lis pattern of the carpet. The gilt chairs, which also appear in the view of the Duchess's Bedroom, have again been arranged and posed by the Country Life photographer.