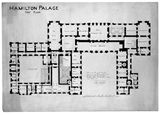 © South Lanarkshire Libraries
Photographic copy of first-floor plan
Between 1822 and 1828 the north front of Hamilton Palace was massively enlarged and enhanced by Alexander, 10th Duke of Hamilton (1767-1852) working in collaboration with the distinguished Glasgow architect, David Hamilton (1768-1843), whose design represented an interpretation of the 1819 drawings of the Neapolitan architect Francesco Saponieri. The old north front was replaced by a monumental edifice 80.5m long, the fašade of which was centred upon a colossal portico of hexastyle (that is, of six column) form and Corinthian Order.
One of a pair which show the ground and first floors of the palace at a scale of 1:160 immediately prior to demolition in the 1920s, this drawing provides the clearest and fullest surviving graphic record of the layout of the principal floor of the palace in its final, developed form. All the principal rooms and spaces of the integrated 'new' and 'old' portions of the fabric are clearly designated, though the portico and external stair to the grand entrance hall are not shown. Of the older part, the main changes of use have been in the east courtyard wing where what were shown as withdrawing room and ante-chamber on the c.1730 drawing have become music room and drawing room respectively, and the straight-flighted stair between them is now of newel (turnpike) form with a small ante-room on the landing. Of the 19th-century additions, the drawing clearly depicts the arrangement of the T-shaped Beckford Library which is set between the partly-roofed service courts and is reached by the late 17th-century newel (turnpike) stair near the south end of the west courtyard wing.
Like the corresponding ground-floor plan, this drawing forms part of a codicil to the 'conditions of sale of materials of Hamilton Palace buildings' which in this case were dated 28 and 29 October 1921. Again, as in the case of the ground-floor plan, two sets of coloured lines have been overdrawn along the lines of the walls between the inner and outer service courts.