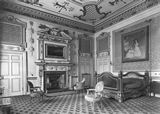 © Country Life Picture Library
Duchess's bedroom
At the death of Duchess Anne in 1716 and even by the 1730s, some of the interiors of the late 17th-century 'Great Design' are known to have still remained unfinished. It is likely that these were within the east wing which was the last part to be erected and which was clearly the focus of attention of the architect William Adam (1689-1748) and his stuccoist, Thomas Clayton, when they came to be engaged by the 5th and 6th Dukes of Hamilton (1703-43, 1724-58).
One of the series taken by the Country Life photographer in 1919, this is a view of what is designated the 'Duchess's Bedroom', the penultimate first-floor room situated towards the south end of the east wing, marked simply as 'Bed Chamber' and 'Bed Room' on the plans of c.1730 and 1921 respectively. It is a richly sumptuous creation by William Adam and Thomas Clayton featuring a white and gold stuccoed ceiling and plenishings centred upon a handsome chimneypiece with open-pedimented overmantel. The painted centrepiece of the overmantel is evidently a view of the River Thames, while the portrait above the carved gilt bed is of the Misses Beckford by the artist George Romney (1734-1802).
Throughout this suite of rooms the prevailing colour scheme for the upholstery and carpet is blue and gold with an underlying French theme made manifest in the fleur-de-lis pattern of the carpet. The gilt chairs, which also appear in the view of the Duchess's Boudoir, have again been arranged and posed by the Country Life photographer. The duchess in question is Duchess Susan (1786-1859), who in 1810 married Alexander, later (in 1819) to become 10th Duke of Hamilton (1767-1852). Born at Vevy in eastern France, she was daughter of the wealthy and eccentric aesthete, William Beckford (1760-1844).