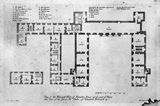 © RCAHMS
First-floor plan as existing, William Adam, c.1730
Begun in about 1684 by the 3rd Duke and Duchess of Hamilton and carried through after the duke's death in 1694 by Duchess Anne (1632-1716) alone, Hamilton Palace underwent a major rebuilding programme in the late 17th century. Dubbed by the family as 'The Great Design', these works led to the creation of a U-plan mansion, with a deep but open south-facing courtyard which, with the exception of the south quarter, followed the outline of the existing late 16th-century enclosed quadrangle. Under the direction of the architect James Smith (c.1645-1731), the south quarter was removed entirely, the east and west quarters were rebuilt as courtyard wings, while the north wing was refaced and remodelled internally, its principal external feature being the entrance portico.
This engraving, one of a series of drawings by William Adam (1689-1748) which were engraved and eventually published in 1812 under the title of Vitruvius Scoticus, shows the first-floor plan of the palace and offices as rebuilt between 1693 and 1701 and as existing in about 1730. The first floor of the main or north block (top right) is wholly taken up by a long gallery, the window-less north wall of which incorporates two fireplaces and, externally, recesses marking the positions of blind or dummy windows. The west courtyard wing (left) contained an inter-communicating suite of public rooms, the great dining room and drawing room, and terminates in a bedroom with associated dressing room and closet. There is a near-identical arrangement of bedroom, dressing room and closet at the southern end of the east courtyard wing (right) which otherwise contains a withdrawing room and ante-chamber on each side of a back stair. West (left) of the gallery a suite of rooms which make up the family apartment, here labelled 'My Lord Duke's Appartment', occupy most of the north-west wing with a 'little parlour' and vaulted charter room in the adjacent wing.
The long gallery, designed to provide a setting for family portraits and other paintings, was a design feature which was coming into vogue among the grander houses of late 16th- and 17th-century Scotland such as Holyroodhouse, Leslie (Fife), Drumlanrig (Dumfriesshire) as well as Hamilton itself. On this floor, ornate plaster ceilings by Thomas Aliborne covered the principal rooms, whose walls were lined with oak wainscot (panelling), either of full floor-to-ceiling or dado (lower portion) height, and the chimneypieces and staircase were embellished with the work of the master wood carver, William Morgan. However, one visitor in 1732, close to the date of this plan, noted that 'many of ye rooms are not fitted up, wainscotted etc.', which probably explains why Adam and the stuccoist, Thomas Clayton, were being engaged by the 5th and 6th Dukes.