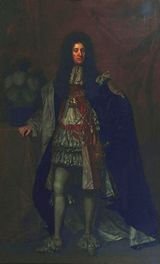 © Lennoxlove House Ltd
Formerly hanging in Hamilton Palace, South Lanarkshire, now at Lennoxlove, East Lothian
This portrait of William, 3rd Duke of Hamilton was painted in London, presumably soon after the sitter was invested with the Order of the Garter in 1682. It is believed to be by one or more of the assistants in Knellerís studio. It has been in the Hamilton Collection ever since.
The duke is shown in his Garter robes, wearing a full-bottomed wig. The robes had been made by James Marshall, his London tailor. His enamelled gold collar, diamond badge and gold garter were supplied by Richard Beauvoir. The badge cost £610 sterling.
William, 3rd Duke of Hamilton was not a Hamilton by birth. The son of William Douglas, 1st Marquis of Douglas, he fought in the royalist army in the mid-1650s and in 1656 married Anne, 3rd Duchess of Hamilton in her own right. At her request, Charles II made him Duke of Hamilton. In parliament, the duke led the opposition to John, 1st Duke of Lauderdale, later serving twice as Lord High Commissioner. President of the Scottish Privy Council in the 1680s, he occupied other high offices including that of Lord High Admiral and was an extraordinary Lord of Session. The Duke of Hamiltonís eldest son, James, Earl of Arran, one of Knellerís first British patrons, encouraged all his relatives to sit to the German artist, who succeeded Sir Peter Lely as leading painter at Charles IIís Court.