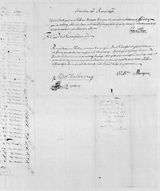 © Lennoxlove House Ltd
This important account itemises work done by William Morgan, carver, in the newly built part of Hamilton Palace in 1700. William, 3rd Duke of Hamilton and his wife Duchess Anne had set in hand ambitious plans for rebuilding the 16th-century palace. The duke died in 1694 before the work could be completed, but the duchess carried on with their scheme and by 1700 the interior decoration was in hand.
Morgan's account gives a vivid record of the elaborate friezes, fireplaces and picture frames enriched with carvings of flowers, animals, birds, fish and cherubs as well as cinquefoils (five-petalled flowers) and stars from the Hamilton coat of arms. Duchess Anne paid for the work in instalments, as it was being done, and on the second page of this account is her precept for payment of the final instalment of £40.
The precept was written out by her secretary and legal adviser David Crawford and signed by her in the palace on 20 March 1700. Below the duchess's signature is William Morgan's receipt, also written out by David Crawford and signed by Morgan. It was witnessed by Alexander Walker, one of the duchess's servants, and James Smith, the architect of the new buildings. In total, the work cost £141.11.3 sterling.