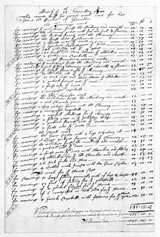 © Lennoxlove House Ltd
This important account itemises work done by William Morgan, carver, in the newly built part of Hamilton Palace in 1700. William, 3rd Duke of Hamilton and his wife Duchess Anne had set in hand ambitious plans for rebuilding the 16th-century palace. The duke died in 1694 before the work could be completed, but the duchess carried on with their scheme and by 1700 the interior decoration was in hand.
Morgan was employed in the principal chambers of the palace. In the Dining Room, he carved the architrave frieze, mouldings and cornice, the chimneypiece 'with fish and foule and flowers', and the picture frames and friezes over the chimney and doors. He also supplied 176 medallions at six shillings a piece and 180 cinquefoils and stars (from the Hamilton coat of arms) between the medallions. Morgan likewise carved two Corinthian capitals there. His work in the Drawing Room was of a similar nature, the chimney being richly carved with coronets and flowers.
For the Bedchamber Morgan provided decorative friezes, capitals and chimneypiece, and in its closet was the Duchess's cipher (monogram or crest), 'with 2 boys subporting itt'. The closet frieze had cherubim and foliage over the doors and there were the usual cinquefoils and stars. Finally, the staircase had ten large folding panels with 'boys and beasts', ten pendant flowers (these were probably candelabra, which were sometimes described as 'flowers' at that time) and four Ionic capitals with festoons.