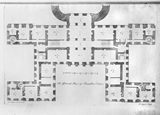 © RCAHMS
Ground plan showing proposed alterations and additions, c.1730
Rebuilt and enlarged in the late 16th century, Hamilton Palace, underwent a further major redesign between 1684 and 1701 at the hands of the 3rd Duke (1634-94) and Duchess Anne (1632-1716). Dubbed by the family as 'The Great Design', these extensive works nonetheless left the exterior of the old north front of the main block much as it had been before. Under the 5th Duke of Hamilton (1703-43), while the architect William Adam (1689-1748) was engaged mainly in the design and supervision of building at Ch'telherault, the grand ducal 'dog kennel' in the High Parks, he was also commissioned by the duke to survey the palace and to present proposals which involved an enhancement of the old north front and a remodelling of the layout.
This drawing, part of a series by William Adam which were engraved and eventually published in 1812 under the title of Vitruvius Scoticus, shows the proposed ground-floor layout which corresponds with the elevations by Adam. The axis of the new design is formed by a twin-level entrance halls entered, as then existing, at ground-floor level from the south court (bottom) and at the piano nobile (first floor) from the new northern entrance where the curved perron (staircase) rises above this plan level. The drawing also clearly shows how the south courtyard wings have been reduced in length from eight bays to five, and extended laterally to correspond with the overall length of the north front, creating in effect an overall triple U- or triple courtyard layout.
Much of the collaboration between the 5th Duke of Hamilton and William Adam focused on the building and finishing of Châtelherault, though Adam is known to have supervised the decoration of the Hamilton apartments at Holyroodhouse, Edinburgh, in 1740, and of the east wing of Hamilton Palace itself in the 1740s for the duke and his son, the 6th Duke (1724-58).