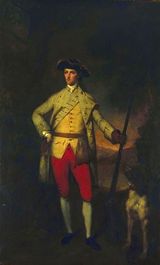 © Lennoxlove House Ltd
Formerly hanging in Hamilton Palace, South Lanarkshire, now at Lennoxlove, East Lothian
This portrait of James, 6th Duke of Hamilton and 3rd Duke of Brandon, was painted in the early 1750s and has been in the Hamilton Collection ever since.
The duke is dressed for shooting, in black hat, buff coloured coat, cream waistcoat, red breeches and white stockings with black shoes. He grasps a gun and has one of his dogs by his side.
The duke became a Knight of the Thistle in 1755, but he spent much of his time in London and died in 1758 at the early age of 34, having caught a chill while hunting during a stay at his uncle's house in Oxfordshire. Gavin Hamilton the artist was a distant relative of the ducal family. Born in Lanark in 1723, he studied in Rome and became a pioneer of Neo-Classical painting. He is best known for his large scale subject pictures of mythological scenes. This full-length portrait, in Hamilton Palace Breakfast Room in 1793, was, by 1919, hanging in the Palace's Long Gallery.