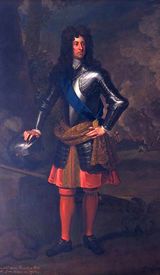 © Lennoxlove House Ltd
Formerly hanging in Hamilton Palace, South Lanarkshire, now at Lennoxlove, East Lothian
James, 4th Duke of Hamilton was one of Kneller's first British patrons, and he not only sat to him but encouraged the rest of his own family to do so, including Anne, 3rd Duchess and William, 3rd Duke. The large, full-length portrait, oil on canvas, 238.76 x 147.3cm, appears to be signed and dated by 'Sir Godfrey Kneller, Bart., 1715'. This would make it a posthumous image. It could be, however, that it is a posthumous version of a portrait from life, or that the inscription is not authentic. It has always been in the Hamilton Collection.
After his education at Hamilton Burgh School and Glasgow University, the 4th Duke undertook the Grand Tour to France and, unusually for a Scot, also visited Italy, travelling as far south as Rome. To the annoyance of his parents, he then settled in London at the Court of Charles II, with whom he was something of a favourite. Because his mother was duchess in her own right, he did not inherit his titles on the death of his father in 1694, but his mother agreed that he should become duke in 1698, so that he could represent the family in the Scottish parliament.
His first wife had died young and his second marriage to an English heiress, Elizabeth Gerard, meant that the 4th Duke's attitude towards the Treaty of Union was ambivalent. His relatives and friends expected him to oppose the union, but he failed to take a lead and after the act was passed in 1707, he went south again, never to return. In 1711 he was created Duke of Brandon and Baron Dutton, but was unable to take his seat in the House of Lords because of a legal wrangle as to whether Scottish peers could sit there under English titles. He was killed in a duel in Hyde Park by Lord Mohun in 1712, before he could take up his new position as Queen Anne's ambassador in France.