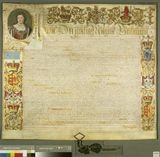 © Lennoxlove House Ltd
James Hamilton became 4th Duke of Hamilton, not on the death of his father in 1694, but in 1698 when his mother Anne, Duchess of Hamilton in her own right, resigned her honours in his favour. He took his seat in the Scottish parliament in 1700. In 1708 (after the Act of Union) he was chosen as one of the 16 Scottish representative peers.
In September 1710 he was, by this patent granted by Queen Anne, created Baron Dutton and Duke of Brandon in the Peerage of Great Britain. It was, however, challenged by the House of Lords, who resolved that no peer of Great Britain who was a peer of Scotland at the time of the Union might sit in Parliament.
The Scottish peers, led by Hamilton, withdrew. The ruling was amended to allow Scottish peers to enjoy full rights at the request of British peers. No such request, however, was ever made on behalf of the Duke of Hamilton who continued to sit as a representative peer until his death in a duel with Lord Mohun in 1712.