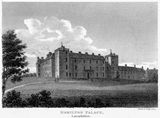 © RCAHMS
Engraving of north front, 1807
Rebuilt and enlarged in the late 16th century, Hamilton Palace, formerly 'The Orchard', underwent a further major redesign a century later, largely between 1684 and 1701 at the hands of the 3rd Duke (1634-94) and Duchess of Hamilton (1632-1716). Dubbed by the family as 'The Great Design', these extensive works nonetheless left the exterior of the old north front of the main block much as it had been before.
This engraving of 1807 broadly corresponds with the Isaac Miller drawing of about 1677. Both show a long, three-storeyed and five-bayed main block symmetrically disposed around a central entrance and flanked by four-storeyed square towers at each end. As in the 1677 drawing, the towers have small conical or pyramidal roofs, inset behind balustraded parapets, and there is a colonnaded porch around the entrance, similar in general effect to that represented by Miller, though possibly a later replacement. Changes have, however, quite clearly taken place at the wall-head where the roof-line and eaves have evidently been raised above what had previously been dormer windows, all the window openings themselves now incorporating sash frames. Although it is not evident in this view, the range of first-floor windows in the main block were dummies formed in the windowless north wall of the Long Gallery.
One major intention and effect of the late 17th-century 'Great Design' was to make the new south or 'court' façade the principal entrance front of the palace, thereby relegating the old main entrance on the north side to a secondary or 'back door' rôle. Plans to enhance this north front for the 5th Duke (1703-43) were drawn up in the 1730s by the architect William Adam (1689-1748) but they remained stillborn. much of the effort and expenditure then being diverted towards the building of Châtelherault. However, upon the accession of the 10th Duke (1767-1852) in 1819, only 12 years after this engraving, plans to remodel the north front were re-activated on an even more massive scale.