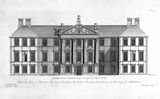 © RCAHMS
Elevation of the south or 'court' front, William Adam, c.1730
Begun in about 1684 by the 3rd Duke and Duchess of Hamilton and carried through after the duke's death in 1694 by Duchess Anne (1632-1716) alone, Hamilton Palace underwent a major rebuilding programme in the late 17th century. Dubbed by the family as 'The Great Design', these works led to the creation of a U-plan mansion, with a deep but open south-facing courtyard which, with the exception of the south quarter, followed the outline of the existing late 16th-century enclosed quadrangle. Under the direction of the architect James Smith (c.1645-1731), the south quarter was removed entirely, the east and west quarters were rebuilt as courtyard wings, while the north wing was refaced and remodelled internally, its principal external feature being the entrance portico.
This engraving shows the 'court' or formal ceremonial entrance front of the palace as rebuilt between 1693 and 1701 and as existing in about 1730. Its central feature is the portico of pedimented tetrastyle (that is, with four frontal columns) form, at that date the first formal frontispiece of this style and scale to appear in Scotland. Except in matters of relatively minor decorative detail, the completed portico corresponds closely with the 1696 design, as do the south end walls of the wings in relation to a 1693 design.
Part of a series of drawings by William Adam (1689-1748) which were engraved and eventually published in 1812 under the title of Vitruvius Scoticus, this is also one of a number commissioned by the 5th Duke of Hamilton (1703-43) who employed Adam to survey the mansion as existing and to present proposals to enhance the old north front of the palace, remodel the interior and reduce the long south-facing wings from eight bays to five. A significant programme of interior decoration was carried out in the east wing of the palace under Adam's supervision, but even greater effort and expenditure at that date was channelled into the building of Châtelherault.