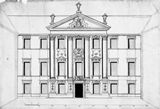 © Lennoxlove House Ltd
Smiths' design for frontispiece, 1696
Begun in about 1684 by the 3rd Duke and Duchess of Hamilton and carried through after the duke's death in 1694 by Duchess Anne (1632-1716) alone, Hamilton Palace underwent a major rebuilding programme in the late 17th century. Dubbed by the family as 'The Great Design', these works led to the creation of a U-plan mansion, with a deep but open south-facing courtyard which, with the exception of the south quarter, followed the outline of the existing late 16th-century enclosed quadrangle. Under the direction of the architect James Smith (c.1645-1731), the south quarter was removed entirely, the east and west quarters were rebuilt as courtyard wings, while the north wing was refaced and remodelled internally, its principal external feature being the entrance portico.
This ink and wash drawing is the design elevation for the giant entrance portico. It is endorsed in the following terms (with spelling modernised): 'the front of the north quarter of the Palace of Hamilton which Mr James and James Smiths masons are obliged to rebuild according thereto, conforming to an order signed and delivered to them by her grace, the Duchess of Hamilton', signed and dated by the two James Smiths 'this last of July', 1696. As completed, the portico corresponded closely with the design, except that the column bases lacked the decorative swags, the doorway has a plain triangular-headed pediment in place of the rounded open pediment and cartouche shown here, while the main pediment itself is more greatly enriched with dentils (stylised blocks), apparently as shown in an alternative drawing.
Acknowledged as Scotland's leading architect over three decades from about 1680, James Smith (c.1645-1731) owed much of the progress of his early career to the patronage of the 1st Duke of Queensberry. Queensberry's wife was a sister of the 3rd Duke of Hamilton, a family connection which no doubt laid the path to Smith's employment at Hamilton. He was first engaged in 'drawing drafts' as early as 1682, probably in connection with the service ranges, but the main period of his employment by the Hamilton family, including work on the burial aisle and the monument to the 3rd Duke (d.1694), was between 1693 and 1701. James Smith, his namesake and colleague, was evidently a younger cousin.