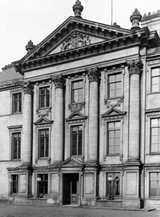 © Country Life Picture Library
Frontispiece of south or 'court' front, c.1919
Begun in about 1684 by the 3rd Duke and Duchess of Hamilton and carried through after the duke's death in 1694 by Duchess Anne (1632-1716) alone, Hamilton Palace underwent a major rebuilding programme in the late 17th century. Dubbed by the family as 'The Great Design', these works led to the creation of a U-plan mansion, with a deep but open south-facing courtyard which, with the exception of the south quarter, followed the outline of the existing late 16th-century enclosed quadrangle. Under the direction of the architect James Smith (c.1645-1731), the south quarter was removed entirely, the east and west quarters were rebuilt as courtyard wings, while the north wing was refaced and remodelled internally, its principal external feature being the entrance portico.
This oblique view shows the frontispiece of the late 17th-century 'court' or formal ceremonial entrance front of the palace in its final state, prior to demolition in the 1920s. The portico of pedimented tetrastyle (that is, with four frontal columns) form was the first formal frontispiece of this style and scale to appear in Scotland. As completed, it corresponds closely with the design drawing of 1696, except that the column bases lack the intended applied ornament, the doorway has a plain triangular-headed pediment and the main pediment itself, which contains the Hamilton armorial within the tympanum, is enriched with dentils (stylised blocks). The columns are fully rounded shafts set in curved niches and are of Giant Corinthian Order, that is, they rise through two or more storeys and bear the most decorative capitals of the five Renaissance Orders.
Among the few rare British exemplars for this design were Chelsea Hospital in London, designed by Sir Christopher Wren (1632-1723), whom the 3rd Duke is known to have consulted, and the east front of Hampton Court Palace, which he certainly visited. It has even been suggested that the inspiration may have come direct from Italy and from the San Giorgio Maggiore Church in Venice which Smith may have seen.