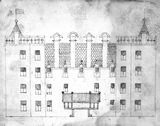 © RCAHMS
Drawing of north front by Isaac Miller, c.1677
Symbolised as a grand, turreted structure on Timothy Pont's late 16th-century map of Clydesdale, 'The Orchard' re-emerged phoenix-like from a series of destructive military episodes to be rebuilt in the last two decades in substantial style and on a fashionable quadrangular or 'palace' plan. Some of the results of the 16th-century rebuilding and enlargement are shown here in this drawing of the main north front, the earliest surviving detailed depiction of the palace. It is accompanied by an elevation of the church, and a ground plan of the palace which sets out the four-square layout of the main court and service court ('back close') which stood to the west (right). All were drawn by one Isaac Miller in about 1677.
As shown here, the general appearance of the building corresponds closely with that shown in an engraving of 1807: a long, three-storeyed and five-bayed main block is symmetrically disposed around a central entrance and is flanked by four-storeyed square towers at each end, this view being slightly distorted to show the inner and outer wall faces of each tower. As in the 1807 engraving, the towers have small conical or pyramidal roofs, inset behind balustraded parapets, though here the lateral chimney-stacks of the main block have rather more emphasis and decoration and the upper-floor windows are pedimented dormers. Emphasis is given to a balcony-cum-colonnaded porch around the entrance, possibly a representation of that shown in the 1807 view, but again slightly distorted to show the sides as well as the front. The drawing is fascinatingly clear about the windows which are uniformly half-glazed and half-shuttered throughout, with diamond-paned and leaded glass in the upper halves and casement-hung timber shutters in the lower, below the transoms (horizontal mid-frames).
Little is known of Isaac Miller, the draughtsman who produced this important series of early drawings of Hamilton Palace and Church. He is thought to have been a carpenter and may possibly have been of the celebrated family of Quakers of this name who were employed as gardeners by the 3rd Duke and Duchess of Hamilton.