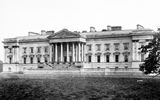 © RCAHMS
North front, c.1895
Between 1822 and 1828 the north front of Hamilton Palace was massively enlarged and enhanced by Alexander, 10th Duke of Hamilton (1767-1852) working in collaboration with the distinguished Glasgow architect, David Hamilton (1768-1843), whose design represented an interpretation of the 1819 drawings of the Neapolitan architect Francesco Saponieri. The old north front was replaced by a monumental edifice 80.5m long, the façade of which was centred upon a colossal portico of hexastyle (that is, of six column) form and Corinthian Order.
This view shows the grand north front of the palace in all its late 19th-century glory. Almost exactly as it appears on David Hamilton's design drawing of about 1822, this elevation is fronted by a low terrace wall added after 1837. The tympanum of the pedimented portico bears the armorial of the 10th Duke, another one of which still survives in the garden at Barncluith. The sheer number of chimneys reflects a more prosaic functional aspect of the palace, which incorporated over 100 flues.
By the later 19th century, the enlarged mansion was proving expensive to maintain, and was used only as an occasional residence by the Hamilton family. The programmes of rebuilding and art collecting on the part of the 10th Duke and his successors had left a heavy burden of debt on the estate, and in July 1882 a major sale of art treasures from Hamilton Palace was held at Christie's in London, realising what was then the substantial sum of almost £400,000.