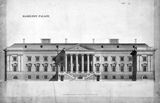 © Lennoxlove House Ltd
Drawing of north front of palace as built, c.1822
Upon his succession to the ducal title and estates in 1819, Alexander, 10th Duke of Hamilton (1767-1852), then aged 51, lost no time in reviving plans to enhance and enlarge the north front of Hamilton Palace, a scheme which had lain dormant since the time of the 5th Duke in the 1730s. His aim was to erect a grand residence which not only reflected the increasing wealth and national standing of the family but also provided an appropriately grand setting for the considerable art collections which he continued to gather and inherit.
This ink and colour wash drawing is neither signed nor dated, but it is certainly by David Hamilton (1768-1843) and it dates from, or after, 1822 when work on the great north front began. It shows the 15-bayed elevation as built, broadly as set out in a simplified form in the Saponieri drawings, but with the addition of end pavilions, a reversion to the spirit of the older Adam design. As designed and built, the pavilions were each framed within paired pilasters (shallow, flat attached columns) of the same Corinthian Order as the hexastyle portico.
By 1822, David Hamilton, Glasgow's leading architect, was at the peak of his profession, an architect who was equally well versed in Neo-Classical and Gothic Revival styles, and a man who 'knew how to deport himself in the society of dukes and earls'. He had already carried out, in about 1820, alterations to 12 (later 15) Portman Square, the London residence of the 10th Duke, and was later responsible for the new additional church at Bothwell (c.1825-33) where the monument to the 3rd Duke was translated. His drawings for the church are dated 1824.