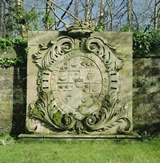 © RCAHMS
Situated high above the west bank of the River Avon about 1km south of Hamilton, Barncluith, from the Old Scots, 'Baron's Cleugh' (ravine), comprises a picturesque group of domestic buildings dating from the 16th and 17th centuries surrounded by some four hectares of landscaped gardens. Stretches of terraced or 'hanging' gardens ranged across the steep riverside slopes have their origins in work undertaken by John Hamilton (d.1708) of Barncluith, 2nd Lord Belhaven, who was influenced by the publication of John Reid's

The Scots Gardn'r

in 1683 and by landscape designs at neighbouring Hamilton Palace. By the 19th century Barncluith had become justly famous as an archetypal old Scots garden, 'one of the sights of Clydesdale' on the itinerary of every important visitor to western Scotland.
This is an image of a large carved stone armorial from Hamilton Palace, brought to Barncluith in the 1920s and recently re-positioned in the eastern boundary wall of the garden. Its precise provenance is not recorded, but it bears a remarkably close similarity to the armorial over the chimneypiece in the grand entrance hall of the 1820s. Surmounted by a ducal coronet and circled with the motto of the Order of the Garter, 'Honi soit qui mal y pense' (shamed be he who thinks evil of it), the shield displays the quartered Hamilton coat of arms. This comprises identical grand quarters (that is, quarters which are counter-quartered) in the 1st (top left) and 4th (bottom right). Without reference to the tinctures (colours), the quartering of each of these may be simply described as containing 1st and 4th, three cinquefoils and 2nd (top right) and 3rd (bottom left) a lymphad (galley) sails furled. Each of the identical 2nd and 3rd grand quarters are charged with a man's heart ensigned with an imperial crown, and on a chief (that is, the upper part of the quarter) three stars, the background lines being the heraldic convention for azure (blue). The cinquefoils are for Hamilton, the lymphad represents the Arran line, and the 2nd and 3rd grand quarters are for Douglas. Carved in bold relief in the centre is the escutcheon (shield) of Ch'telherault containing three fleur-de-lis.
Barncluith House and gardens were lovingly restored and extended by a local solicitor, James Bishop, who bought the estate in 1908 and lived there until his death in 1931. In the course of this work, he embellished the garden with numerous architectural fragments, including this armorial, which he, along with many Hamilton townsfolk, acquired in the 1920s from Hamilton Palace and its demolition site. Today, the gardens at Barncluith constitute the biggest single local repository of such carved details and provide the best physical reminder of the quality and grandeur of the palace's architecture.