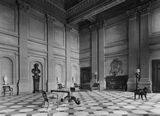 © Country Life Picture Library
Grand entrance hall, 1919
One of the main purposes of the enlargement and enhancement of the palace between 1822 and 1828 by Alexander, 10th Duke of Hamilton (1767-1852) and the architect, David Hamilton (1768-1843) was the creation of a suite of interiors that would form an appropriately grand setting for the duke's growing collection of art treasures. Inside, the scale and tone of the new additions on the north front were set by the grand entrance hall at first-floor level, an impressive 16.5m-square and 12.8m-high space whose dimensions exactly matched the proportions of the portico outside.
This view shows the marble-floored entrance hall with its polished ashlar walls panelled and framed by giant Corinthian pilasters. An outsize bronze bust of the creator of this grandeur, Alexander, 10th Duke of Hamilton (1767-1852), stands on a pedestal in the central niche of the inner wall, which is the remodelled outer face of the original north front. The black marble fireplace in the side wall is surmounted by an overmantel in the form of a Hamilton armorial (now in the garden at Barncluith) and is flanked by two gas-lit pillar lamps. The 10th Duke's suite of Breakfast Room chairs is casually disposed around the room.
This image is one of a series of 133 surviving photographic plates taken by A E Henson, a staff photographer of Country Life, to accompany articles by H Avray Tipping on the palace and its picture collections in 1919. At that date, the fate of the doomed palace was already sealed and the plates were used to illustrate Christie's catalogue of the sale of the remaining contents held on 12 November 1919. Liberties are known to have been taken in the manner that the furniture was moved around and arranged to give the otherwise empty palace a 'lived in look', while the most opulent of the interiors created or re-vamped by the 10th Duke, whose richly excessive tastes still remained an object of prejudice, were either 'edited' by the Country Life team or not recorded at all.