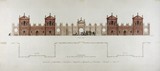 © RCAHMS
Coloured measured drawing of north elevation, 1975
Ch'telherault, locally known as The Wham, is named after the French dukedom bestowed in 1549 upon James Hamilton, 2nd Earl of Arran and Lord Governor of Scotland (d.1575). Standing in a prominent, eye-catching position in Hamilton High Parks, it is one of the largest and most elegant hunting lodges in Britain. It was built between 1731 and 1743 by the 5th Duke of Hamilton (1703-43) to the designs of the celebrated architect, William Adam (1689-1748), both of whom referred to it with casual irony as 'the dog kennel'.
As shown in this colour wash drawing, which is based on a survey carried out in 1969 when the derelict and fire-damaged structure was under threat, the main north front of Ch'telherault is almost 90m in overall length, slightly longer than the frontage of Hamilton Palace which it faced about 2.5km away. It is handsomely wrought in local orange-red sandstone and consists of two pairs of three-storeyed pavilions linked by a long screen-wall with a central gateway and deeply scalloped parapets. The ducal apartments were contained in the western (right) group of pavilions, while the eastern pavilions contained the servants' quarters and stables with a kennel yard (now roofed over) behind.
Whilst generally conforming to Adam's published design in Vitruvius Scoticus, the frontage as completed betrays a number of variations in the detailed treatment of the pavilion gables, the gateway, and the screen-wall and parapet.