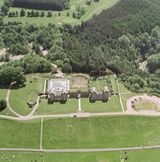 © RCAHMS
Aerial view from north, 1997
Named after the French dukedom bestowed in 1549 upon James Hamilton, 2nd Earl of Arran and Lord Governor of Scotland (d.1575), Ch'telherault is one of the largest and most elegant hunting lodges in Britain. Built between 1731 and 1743 by the 5th Duke of Hamilton (1703-43) to the designs of the celebrated architect, William Adam (1689-1748), Ch'telherault occupies an elevated site in the High Parks, forming an eye-catching termination to the vista along the great south avenue from the palace, about 2.5km away.
The main north front of Ch'telherault, which is almost 90m in overall length and is wrought in orange-red sandstone, consists of two pairs of three-storeyed pavilions linked by a long screen-wall with deeply scalloped parapets, and is backed by courtyards and gardens, clearly visible in this aerial view. The ducal apartments were contained in the western (right) group of pavilions, behind which there is a restored parterre (ornamental garden) and surrounding terrace. Behind the servants' quarters and stables in the eastern pavilions is a kennel yard (now roofed over), and the flanking terrace has an earthwork 'mount' or viewing platform.
Ch'telherault was evidently sited on the great avenue at a point of optimum inter-visibility with Hamilton Palace. It stands almost 1.6km short of the southern extent of the avenue as shown on Edward's 1708 plan. However, plantation and enclosure work to the south of Ch'telherault in 1750 included the provision of a large belvedere (pavilion from which to view the scenery), close to the highest point on the avenue which Edward had himself earlier identified.