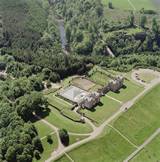 © RCAHMS
Aerial view from north-east, 1997
The ancient woodlands around the Avon Water, particularly on the west bank (top right), were one of the great attributes of the royal hunting estate of Cadzow which came into the possession of the progenitors of the Hamilton family in the early 14th century. By the 1730s when the supremely elegant hunting lodge of Ch'telherault was being built, foxes were tending to replace deer as the main prey of the hounds and mounted hunters, the deer tending merely to become 'graceful appendages to the landscape'.
This oblique aerial view shows the functional layout of Ch'telherault, in which the servants' quarters and stables in the eastern (left) group of pavilions are backed by a kennel yard (now roofed over) and the ducal apartments in the western (right) group of pavilions are associated with a restored parterre (ornamental garden) and surrounding terrace which commands views over the deep river gorge. Occupying a dramatic cliff-top site on the opposite bank of the river, to the right of the Duke's Bridge (1863), are the ruins of what is today known as Cadzow Castle.
Cadzow Castle consists of the remains of what was once a strong, well-fortified tower (left) associated with ranges of domestic buildings in an outer court (right), all evidently dating from the first half of the 16th century and possibly a product of Sir James Hamilton of Finnart, guardian of the 2nd Earl of Arran (d.1575).