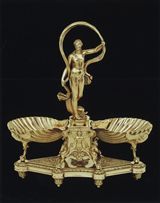 © National Museums of Scotland
Formerly in Hamilton Palace, South Lanarkshire, now in the National Museums of Scotland
The tea service of the Emperor Napoleon, purchased by the 10th Duke of Hamilton in 1830, is a superb example of the richness and magnificence of the French Empire style in its maturity.
This is one of the finest pieces: one of the pair of double salts, surmounted by a cast figure of Venus, the goddess of love. It is a heavy, beautifully finished piece. Similar salts by Biennais exist, but generally lack the sweeping grace of the drapery and attention to detail found here.
The marks on both salts reveal that they were made, though not necessarily completed, by the end of August 1809 and are 'stock-pieces' that were worked up and incorporated in the service. This would have been fortuitous, because it is clear that considerable thought went into the choice of subject matter. The service was intended to celebrate the Emperor's marriage and references to love and marriage abound. Venus is particularly prominent on the salts, while Neptune and Amphitrite and the lovers Cupid and Psyche disport themselves on the hot water urn and sugar bowl. Even more pointedly, the tea caddy is adorned with a chased plaque representing the Roman wall painting known as the

Aldobrandini Nuptials

.