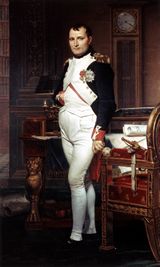 © National Gallery of Art, Washington
Formerly in Hamilton Palace, South Lanarkshire, now in the National Gallery of Art, Washington, USA
Alexander, Marquess of Douglas and Clydesdale (later 10th Duke of Hamilton) was an ardent admirer of the Emperor Napoleon. Like many Whigs, he agreed with the ideals of the French Revolution and saw Napoleon as their saviour and continuator. However, he was also a timid man and a volunteer officer who regarded Napoleon as an unstoppable military genius.
In 1811, when Britain was at war with France and Napoleon was Master of Europe, Alexander approached the imperial court painter Jacques-Louis David (1748-1825) for a portrait of his hero. This is the resulting work, completed in 1812, for which Alexander paid the astonishing sum of 1,000 guineas (£1,050).
David's portrait represents Napoleon as both the artist and Alexander wished to see him: as the conscientious servant of France, who laboured through the night - note the guttering candle and the clock showing the time 4:13 - and was responsible for the new laws of France, the 'Code Napoléon'. David's portrait hung in the Billiard Room and later in the new Dining Room at Hamilton Palace. It passed from the Hamilton Collection in 1882 to the 5th Earl of Rosebery, and has been in the National Gallery of Art, Washington, since 1954.