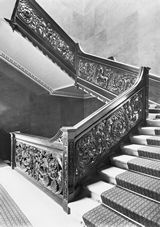 © Country Life Picture Library
View of late 17th-century staircase
The enlargement and enhancement of the palace between 1822 and 1828 by Alexander, 10th Duke of Hamilton (1767-1852) and the architect, David Hamilton (1768-1843) led to the creation or refurbishment of the interiors on a grand scale, and of the late 17th-century rooms or features which survived this massive programme few escaped embellishment or re-modelling to some degree. Originally set within the north-west turret, the location of the old great stair did not fit in with the scheme of 1820s and was re-located to a newly created stairwell in the outer west wing between the two service courts.
This view shows the oak-balustraded scale-and-platt (flight and landing) staircase created by the master carver, William Morgan for William, 3rd Duke (1634-94) and Anne, Duchess of Hamilton (1632-1716). Each of the ten rails which make up the stair is from a single piece of wood, and the ten panels are intricately carved with flowing foliaceous ornament, variously containing human figures, animals and the intertwined monogram, W and A, for William and Anne, surmounted by ducal coronet (bottom left). The newly created stairwell has marbled walls and on the main floors (not shown in this image) classical statuary set in niches.
This image is one of a series of 133 surviving photographic plates taken by A E Henson, a staff photographer of Country Life, to accompany articles by H Avray Tipping on the palace and its picture collections in 1919. At that date, the fate of the doomed palace was already sealed and the plates were used to illustrate Christie's catalogue of the sale of the remaining contents held on 12 November 1919.