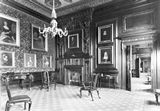 © Country Life Picture Library
Great bedchamber, west wing, 1919
The grandest of the interiors in the late 17th-century 'Great Design' consisted of a suite of crimson-upholstered state rooms on the first floor of the west wing and the adjacent Long Gallery in the north block. Nothing in the palace escaped the embellishing hand of Alexander, 10th Duke of Hamilton (1767-1852) but in this area his interventions involved a 'thorough repair' of the oak panelling and the creation of new trompe l'oeil (that is, painted with the false effect of relief or perspective) ceilings by David Ramsay Hay. To the end, therefore, something of the character and tone of the interiors created in the time of Duchess Anne (1632-1716) managed to shine through.
This is a Country Life photograph taken in 1919 of the room which had been Duchess Anne's great bedchamber on the first floor of the west wing. The view through the open door (right) is of the inter-communicating sequence of drawing room and dining room which made up the grand state apartment and linked directly to the Long Gallery beyond. Wallpaper has replaced the panelling on the inner wall (left) above dado height, and while the restored chimneypiece and panel surrounds display the quality of the original wood carving, the talents of the master craftsman William Morgan were demonstrated to even greater effect in the chimneypieces of the two other state rooms. The furniture has evidently been introduced and casually disposed by the Country Life team to create a 'lived in look'.
The family portraits hung in this room are a reminder of the fashion for such works among the aristocracy. Paintings were a particular passion of Duchess Anne's eldest son, James (1658-1712), Earl of Arran, later 4th Duke of Hamilton, and it was mainly through him that portraits of the family were painted by the great contemporary court artist, Sir Godfrey Kneller (1646-1723).