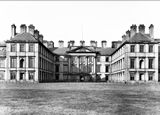 © Country Life Picture Library
South or 'court' front, c.1919
Begun in about 1684 by the 3rd Duke and Duchess of Hamilton and carried through after the duke's death in 1694 by Duchess Anne (1632-1716) alone, Hamilton Palace underwent a major rebuilding programme in the late 17th century. Dubbed by the family as 'The Great Design', these works led to the creation of a U-plan mansion, with a deep but open south-facing courtyard which, with the exception of the south quarter (which was demolished), followed the outline of the existing late 16th-century enclosed quadrangle. James Smith (c.1645-1731), since 1683 Surveyor or Overseer of the Royal Works in Scotland, was the architect whom the duke and duchess commissioned to design and supervise the building of the mansion from 1693 onwards.
This view shows the late 17th-century 'court' or formal ceremonial entrance front of the palace in its final state, prior to demolition in the 1920s. The principal feature remains the frontispiece with its giant portico of pedimented tetrastyle (that is, with four frontal columns) form, the first of its kind to appear on such a scale in Scotland. Inside, behind the façade, the first floor of the north wing was fully taken up by the Long Gallery, while the first floor of the west wing (left) contained the main suite of ducal apartments, 'fit rather for the court of a prince than the palace or house of a subject' in the opinion of Daniel Defoe (c.1659-1731).
One of the doyens of contemporary domestic architecture in England, Sir Roger Pratt (1620-84), acknowledged that, although 'to build with a court in the middle is stately indeed', it was also costly and created a depth of shade. In the blunt view of John Macky who visited the house in about 1723, having a main block at the rear of the court 'not near eighty foot [24.4 metres] broad while the wings are one hundred and fifty feet [45.7 metres]' was 'very preposterous'. Nothing came of the plans, reported by Macky, to enclose the spacious courtyard with a stone and iron balustrade, nor of William Adam's later proposals to shorten the wings from eight bays to five.