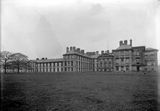 © RCAHMS
View from south-east, c.1919
Rebuilt and enlarged on a quadrangular or 'palace' plan in the late 16th century, Hamilton Palace underwent a major redesign and rebuilding programme between 1684 and 1701, begun by the 3rd Duke and Duchess of Hamilton and carried through after the duke's death in 1694 by Duchess Anne (1632-1716) alone. Dubbed by the family as 'The Great Design', these works led to the creation of a U-plan mansion, with a deep but open south-facing courtyard in place of, but following much of the outline of, the late 16th-century enclosed quadrangle.
This view shows the southern aspect of the palace in its final developed form, prior to demolition in the 1920s. The monumental enlargements carried out by the 10th Duke (1767-1852) had left the late 17th-century south front (centre right) largely intact, though an extensive court of offices (left) had replaced the stables and kitchens erected in 1684 on the site of an even earlier 'back close'.
James Smith (c.1645-1731), since 1683 Surveyor or Overseer of the Royal Works in Scotland, was the architect whom the duke and duchess finally commissioned to design and supervise the building of the mansion from 1693 onwards. Under his direction the south quarter was removed entirely, the east and west quarters were rebuilt as courtyard wings, while the north wing was refaced and remodelled internally, its principal features being, externally, the entrance portico and, internally, a long gallery on the first floor.