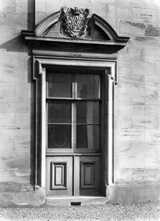 © Country Life Picture Library
Detail of courtyard doorway in east wing
Begun in about 1684 by the 3rd Duke and Duchess of Hamilton and carried through after the duke's death in 1694 by Duchess Anne (1632-1716) alone, Hamilton Palace underwent a major rebuilding programme in the late 17th century. Dubbed by the family as 'The Great Design', these works led to the creation of a U-plan mansion, with a deep but open south-facing courtyard which, with the exception of the south quarter (which was demolished), followed the outline of the existing late 16th-century enclosed quadrangle. James Smith (c.1645-1731), since 1683 Surveyor or Overseer of the Royal Works in Scotland, was the architect whom the duke and duchess commissioned to design and supervise the building of the mansion from 1693 onwards.
Latterly converted into a window, this is the southernmost of two original doorways which opened directly into the courtyard from the east range. As designed in the 1690s, it served one of the four ground-floor rooms in the range, all of which were assigned to the principal servants of the ducal household. In the east wall of this particular room, opposite the doorway, a newel (turnpike) service or 'back' stair led directly to the floors above. Hamilton did not evidently lend itself to the creation of a full or half basement, in which, according to best contemporary practice, servants might work unseen and unheard by members of the family.
This doorway surround is typical of the style and quality of the late 17th-century carved detail in the palace. It represents the height of architectural fashion at the date of 'The Great Design' and remains relatively sharp and crisp as it awaits demolition. The door architrave is formed with a pronounced bolection (raised) moulding which is shouldered or 'lugged' (literally, with ears or 'lugs') at the head. A plain pulvinated (bellied) frieze is surmounted by an open pediment and shield which bears a coronet and monogram containing the intertwined letters W and A for William and Anne, 3rd Duke and Duchess of Hamilton.