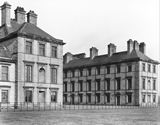 © Country Life Picture Library
Courtyard wings from south-west, 1919
Begun in about 1684 by the 3rd Duke and Duchess of Hamilton and carried through after the duke's death in 1694 by Duchess Anne (1632-1716) alone, Hamilton Palace underwent a major rebuilding programme in the late 17th century. Dubbed by the family as 'The Great Design', these works led to the creation of a U-plan mansion, with a deep but open south-facing courtyard which, with the exception of the south quarter (which was demolished), followed the outline of the existing late 16th-century enclosed quadrangle. James Smith (c.1645-1731), since 1683 Surveyor or Overseer of the Royal Works in Scotland, was the architect whom the duke and duchess commissioned to design and supervise the building of the mansion from 1693 onwards.
This view shows the west (left) and east (right) wings of the late 17th-century 'court' or formal ceremonial entrance front of the palace in its final state, prior to demolition in the 1920s. As shown on 1693 design drawings for the west wing, the south end walls have niches (alcoves) in place of the lower central windows, though not the large sundial intended for a corresponding position at the top level. The open courtyard between the long, eight-bayed, three-storeyed wings marks the site of the demolished south quarter of its late 16th-century predecessor. Contemporary opinion was divided about the merits of such a deep courtyard, but nothing came of the proposals put forward by William Adam (1689-1748) to shorten the wings from eight bays to five.
In the original arrangement, the ground floors of both wings were given over entirely to household offices and bedrooms for the principal servants. Hamilton did not lend itself to the creation of a full or half basement which, in the words of one contemporary English architect, Sir Roger Pratt (1620-84), permitted a much clearer social demarcation insofar as 'no dirty servants may be seen passing to and fro by those who are above, no noises heard, nor ill scents smelt'.