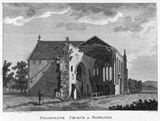 © RCAHMS
Engraving of view by Francis Grose, 'The Antiquities of Scotland' (volume 2, 1791)
Promoted to collegiate status by the 1st Lord Hamilton in 1451 with provision for up to about nine prebendaries (college priests or canons supported by stipends from lands and rents), this medieval church continued in use after the Reformation in 1560 as the local parish church and burial-ground. However, it stood uncomfortably close to the east quarter of Hamilton Palace and upon the building of a new parish church for the townspeople in 1732 it was largely demolished with the exception of the east end and the attached aisle which served as the burial place of the ducal family.
This engraving shows the east end and associated north aisle of the largely demolished church as it stood at the end of the 18th century, evidently reduced to use as a store. It has clearly been an apsidal-ended structure of some grandeur with large traceried windows and lofty interior spanned by a braced timber roof. Entered through the round-headed arch on the north (left) side, the burial-aisle contained an elaborate monument to the 3rd Duke of Hamilton (1634-94) which, upon the final removal of the old church in about 1842, was re-mounted in Bothwell Parish Church. A block plan by the architect David Hamilton (1768-1843) shows the precise position of the old church and vault in relation to the palace in about 1838 when plans for a new mausoleum were beginning to be formulated.
This engraving is one of many views published by Captain Francis Grose (c.1731-91) who, following a career as an antiquary in England and Wales, towards the end of his life embarked upon a comparable survey of the antiquities of Scotland, an enterprise which, among other things, brought him into close friendship with the poet, Robert Burns.