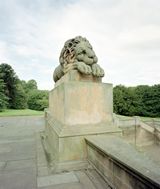 © RCAHMS
One of a pair of recumbent lion sculptures on east front, 1995
Now solitary testament to the colossal scale and grandeur of the buildings which once stood in Hamilton Low Parks and a monument to the self-belief of Alexander, 10th Duke of Hamilton (1767-1852), Hamilton Palace Mausoleum has been described as 'an extraordinary work of architectural sculpture rather than a building'. Built between about 1850 and 1857 to the designs of the architect, David Bryce (1803-76), this piece of 'architectural sculpture' was itself associated with some equally remarkable sculptures by Alexander Handyside Ritchie (1804-70).
On the east side of the mausoleum, mounted on pedestals at each end of the terrace above the grand entrance to the crypt, are two huge recumbent lions, each carved from a single block of stone. One of the guardian lions is awake and alert, the other, shown here, is fast asleep.
Immediately below the terrace where the lions lay, there are three arched entrances with keystones carved in the form of large heads representing Life, Death and Immortality, which are also the work of Handyside Ritchie. The entrance to the crypt is through the central archway.