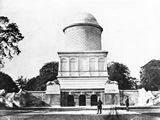 © Lennoxlove House Ltd
View of east front of newly-completed mausoleum, c.1857
Today, despite fears of subsidence in 1921, the exterior of Hamilton Palace Mausoleum remains very much as it appeared upon its completion, probably in about 1857. Built by Alexander, 10th Duke of Hamilton (1767-1852), who did not live to see its completion, it is a remarkable, Roman-style domed structure of panelled masonry, standing to an overall height of about 36.5m.
This early photograph, undated but probably about 1857, is signed by David Bryce (1803-76). It shows the east front of the newly-finished mausoleum and the entrance to the crypt, complete with the lions and keystones sculpted by Alexander Handyside Ritchie (1804-70). The human figures in the foreground may be identifiable as Bryce himself and possibly Ritchie.
There remains uncertainty and confusion over the dates both of the commencement of the work on the mausoleum and of its completion. The early schemes in about 1838-42 and 1846, respectively involving the architects David Hamilton (d.1843) and Henry Edmund Goodridge, both appear to have related to a chapel and mausoleum on the site of the medieval collegiate church, close to the east flank of Hamilton Palace. Neither evidently came to anything and in 1848, the commission eventually fell to David Bryce and in relation to a fresh site north of the palace. The mausoleum is known to have been unfinished on the 10th Duke's death in 1852, but the date of completion is variously given as 1854 or 1857.