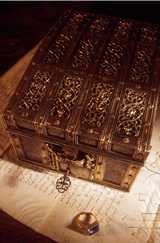 © Lennoxlove House Ltd
Formerly held in Hamilton Palace, South Lanarkshire, now at Lennoxlove, East Lothian
This casket, which has been in the Hamilton Collection since the 1670s, is said to have contained the notorious letters that allegedly incriminated Mary, Queen of Scots in the murder of her second husband, Lord Darnley.
About 25.4cm long, 15.2cm wide and 10.1cm high, the casket is made of silver with a thin and now worn layer of gold. The lid has an intricate pattern of vine leaves and small flowers, and the sides are decorated with a pounced design of hunting scenes. There are handles at each side, and a lock and key. At one time, it probably had its own protective leather case. The casket has the mark of an unidentified Parisian goldsmith of the 15th century.
The casket is one of the two most important items of 15th-century French silver in Scotland, the other being the mace of St Salvator's College, St Andrews University. It is supposed to have been given to Mary, Queen of Scots by her husband Francis II of France.