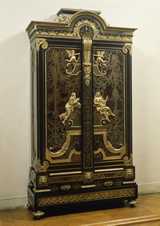 © Photo RMN (The Louvre)
Alexander, 10th Duke of Hamilton, liked furniture decorated with marquetry made of brass and tortoiseshell (actually turtle shell) set off by veneers of ebony. These pieces were either made by the great French royal ébéniste André-Charles Boulle (1642-1732), who was the leading specialist in this technique, or his followers.
Alexander's outstanding acquisitions of Boulle-style furniture were the armoires or wardrobes, with figures of Aspasia and Socrates, which were displayed in the Long Gallery at Hamilton Palace. They are clearly related to a drawing of an armoire, with the same two figures in reverse, now in the Musée des Arts Décoratifs in Paris. This has an inscription on the back about two wall lights that Boulle supplied for the Antechamber of the Grand Dauphin at Meudon in 1701, and indicates that the Hamilton armoires were produced after this date.