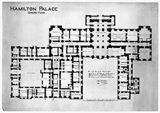 © South Lanarkshire Libraries
Photographic copy of ground-floor plan
Between 1822 and 1828 the north front of Hamilton Palace was massively enlarged and enhanced by Alexander, 10th Duke of Hamilton (1767-1852) working in collaboration with the distinguished Glasgow architect, David Hamilton (1768-1843), whose design represented an interpretation of the 1819 drawings of the Neapolitan architect Francesco Saponieri. The old north front was replaced by a monumental edifice 80.5m long, the fašade of which was centred upon a colossal portico of hexastyle (that is, of six column) form and Corinthian Order.
This ink line drawing is one of a pair which show the ground and first floors of the palace immediately prior to demolition in the 1920s. Drawn on linen at a scale of 1:160, they provide the clearest and fullest surviving graphic record of the palace in its final, developed form with all the rooms, services and internal spaces usefully identified. One noteworthy feature of the plan at this lowest level is the suite of three rooms which make up the duke's apartment at the south end of the east courtyard wing (right), a group of rooms which three centuries earlier had, in common with the rest of the ground floor, been assigned to the principal household servants.
Judging by the written inscription, this drawing forms part of a codicil to the 'conditions of sale of materials of Hamilton Palace buildings' which were dated 14 and 15 April 1922. Two sets of coloured lines have been overdrawn along the lines of the walls between the inner and outer service courts.