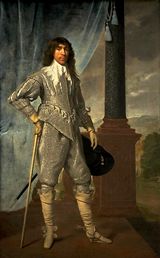 © Scottish National Portrait Gallery
Formerly held at Hamilton Palace, South Lanarkshire, now held in Scottish National Portrait Gallery
This portrait of James, 1st Duke of Hamilton (1606-49) was painted for him in London in 1629 by Daniel Mytens. It was in the Hamilton Collection until it was purchased by the Scottish National Portrait Gallery in 1987.
Oil on canvas, the painting measures 221 x 139.7cm and is signed by the artist. The duke is shown wearing a silver suit with fashionable soft leather boots with butterfly spur leathers - so called because these resembled in shape the open wings of a butterfly. His hair is fairly long and he carries his hat in his left hand. His right hand rests on his cane.
The duke was a leading royalist, the close friend and principal Scottish adviser of Charles I. He was executed at Whitehall on 9 March 1649 and buried in the family vault in Hamilton Parish Church on 1 May. His brother William succeeded to his titles as 2nd Duke of Hamilton.