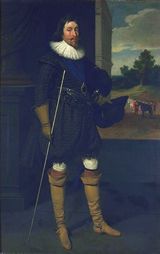 © Lennoxlove House Ltd
Formerly hanging in Hamilton Palace, South Lanarkshire, now at Lennoxlove, East Lothian
Although he described his estates as very much encumbered in 1608 (having succeeded as Marquis in 1604), before his tenure of the abbacy of Arbroath was erected into a temporal lordship in that year, James was able to indulge his interest in art.
As well as collecting Old Masters, he and his son, the 1st Duke, sat for the best portrait painters, as witness this example. A copy of the head and shoulders of this portrait hangs on the stair at Lennoxlove.
Described as a nobleman of rare gifts, he died at Whitehall in 1625, some suggest poisoned by the Duke of Buckingham. Hearing of his death the King,who also lay dying, said 'If the branches be thus cut down, the stock cannot long continue'.