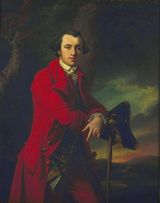 © Lennoxlove House Ltd
Formerly hanging in Hamilton Palace, South Lanarkshire, now at Lennoxlove, East Lothian
Born in 1740, Lord Archibald was the eldest son of James, 5th Duke of Hamilton and his third wife Anne Spenser. He had three daughters and two sons. The elder, Alexander, succeeded to the title on Archibald's death in 1819.
In 1765 he married Lady Harriet Stewart, daughter of Alexander, 6th Earl of Galloway. She died in 1788, before Archibald succeeded to the ducal titles on the death of his nephew Douglas, 8th Duke, in 1799. He was MP for Lancaster from 1768 to 1772.
The landscape in which this portrait is painted is suggestive of the High Parks at Hamilton, with the famous Cadzow Oaks in the background.