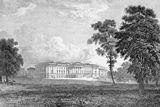 © RCAHMS
Engraving of palace and park, 1829
Between 1822 and 1828 the north front of Hamilton Palace was massively enlarged and enhanced by Alexander, 10th Duke of Hamilton (1767-1852) working in collaboration with the distinguished Glasgow architect, David Hamilton (1768-1843), whose design represented an interpretation of the 1819 drawings of the Neapolitan architect Francesco Saponieri. The old north front was replaced by a monumental edifice 80.5m long, the fašade of which was centred upon a colossal portico of hexastyle (that is, of six column) form and Corinthian Order.
This engraving is a romanticised view of the newly completed north front of the palace in its landscaped park, complete with horse-drawn carriage (right) and deer (left). Published by Joseph Swan in Select Views of Glasgow and its Environs (1829), it takes as its viewpoint a position from the north-east close to where the mausoleum still stands.
The new palace provided an appropriate setting for a number of magnificent social events: in 1843, a grand reception was held here following the marriage of the 10th Duke's eldest son, to Marie, Princess of Baden; in 1860, a great crowd gathered in the park to catch a glimpse of a guest of the 11th Duke (1811-63), the French Empress Eugénie, then in mourning for her sister; in 1878, a visit of Edward, Prince of Wales, which was cheerfully focused on shooting the wild life, concluded with a grand ball in the palace; and in 1914 a visit by King George V and Queen Mary was marked by a reception of imperial grandeur.