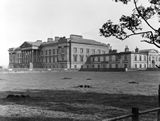 © Country Life Picture Library
General view from north-west, c.1919
Between 1822 and 1828 the north front of Hamilton Palace was massively enlarged and enhanced by Alexander, 10th Duke of Hamilton (1767-1852) working in collaboration with the distinguished Glasgow architect, David Hamilton (1768-1843), whose design represented an interpretation of the 1819 drawings of the Neapolitan architect Francesco Saponieri. The old north front was replaced by a monumental edifice 80.5m long, the fašade of which was centred upon a colossal portico of hexastyle (that is, of six column) form and Corinthian Order.
This oblique view from the north-west exhibits the massively overpowering scale of the additions made by the 10th Duke which enveloped all earlier building fabric. It was evidently at this western (nearer) end of the main block, below the large new dining room which took up the entire first floor, that wall foundations of 2.7m thickness were encountered during demolition in 1927, possibly a long-encapsulated fragment of 'The Orchard', its medieval predecessor.
Adjacent to the west wall of the palace, occupying a site where service buildings had stood since at least the late 16th century, is the two-storeyed court of offices as redesigned and reconstructed by the 10th Duke and David Hamilton in about 1825.