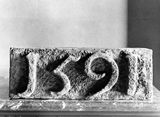 © Country Life Picture Library
1591 datestone, c.1919
A medieval castle which now survives as a tree-shrouded motte or earthwork mound to the north of the mausoleum was evidently associated with Cadzow, a medieval settlement, which stood on the river plain close to the confluence of the Cadzow Burn and the River Clyde. By the later Middle Ages castle and town had shifted from the 'Nethertoun' to the 'Hietoun' on the western edge of the plain. The urban settlement became known as Hamilton and the stone-built manorial residence of the Hamilton family came to be known variously as The Orchard or the Castle of Hamilton, occasionally also referred to as the 'Palace'. There seems little doubt that, probably from the advent of the Hamiltons in the early 14th century, their principal residence stood on the site which developed into Hamilton Palace.
This 1591 datestone, which is carved in false relief (that is, with raised figures) and recorded here in a photograph of 1919, is a fragment of 'The Orchard' incorporated in the later palace, possibly commemorating a phase of repair and enlargement in the 1590s. Upon the demolition of the palace in the 1920s, the remains of walls up to 2.7m thick, compared to 0.9m elsewhere, were also encountered in the north-west quarter, strongly indicating that this part of the building fabric was of pre-17th-century origin.
'The Orchard', together with what is today known as Cadzow Castle, was the object of much destructive attention on the part of royal armies in the period between 1565 and 1579 when it frequently changed hands. It suffered damage in a siege of 1570 and again in 1579 on the occasion when Cadzow Castle was substantially destroyed and left abandoned. However, symbolised as a grand and noticeably broad and turreted structure on Timothy Pont's late 16th-century map of Clydesdale, 'The Orchard' clearly soon revived from these ordeals and is known to have accommodated King James VI himself on a hunting trip in 1589.