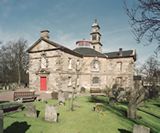 © RCAHMS
General view from south, 1997
Standing uncomfortably close to the east quarter of Hamilton Palace, the medieval collegiate church founded by the 1st Lord Hamilton in 1451 continued in use after the Reformation in 1560 as the local parish church and burial-ground. By 1672 Duchess Anne (1632-1716) had secured the right of appointment to the church, and planned to build a new church next to the new school which she had had erected in the 'Hietoun'. However, it was not until 1732 that the 5th Duke of Hamilton (1703-43) actually had a new parish church built, up the slope beyond the 'Hietoun' about 0.4km south-west of the palace. For its design he commissioned the architect, William Adam (1689-1748), who was also currently engaged on work for him at Ch'telherault.
The only church known to have been designed by William Adam, what is now known as Hamilton Old Parish Church is laid out on a radial plan with four wings or aisles, in the overall shape of a stub-armed cross. The south aisle, seen here (left), originally contained the duke's loft and retiring room with its own private entrance. The larger north wing, surmounted by the staged tower and steeple, accommodates the session house and is entered by a grand colonnaded portico. The layout and detailing clearly owes much to the designs for circular churches produced by the architect James Gibbs (c.1674-1754) in his then recent and hugely influential Book of Architecture (1728).
This parish church occupied the site of a former horse market, then well outside the area of the 'Hietoun' settlement. Land on each side of the narrow path to it was developed from 1751 onwards, leading to the creation of Church Street and thereby further encouraging urban settlement up the hill away from the immediate vicinity of the palace. The medieval church was subsequently largely demolished with the exception of the east end and the attached aisle which served as the burial place of the ducal family.