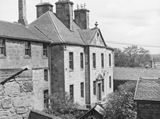 © RCAHMS
View of south frontage from west, probably 1950s
Originally erected in 1696 as the residence of David Crawford, Secretary to Duchess Anne (1632-1716) this handsome and substantial house was sited near the foot of the 'Hietoun' close to the precincts of Hamilton Palace. It was built to the designs of the architect, James Smith (c.1645-1731) who was then working for the duchess on 'The Great Design' for the palace.
This oblique view shows the building as it was, probably in the 1950s, prior to its purchase in 1964 by Hamilton Burgh Council and its subsequent conversion to a museum. It is surrounded by smaller ancillary structures, and its masonry, now rendered and painted, is here exposed, showing clearly the differences in masonry treatment between different portions of the main block and of the west wing (left). Also clearly visible are the block sundials tucked into the upper front angles of the building, and the sprocketing (splayed reinforcement) of the roof at the eaves which creates a bell-cast profile typical of buildings of this period.
Purchased by the 8th Duke of Hamilton (1756-99) in 1784, when an assembly room with a musicians' gallery was added at the rear, the Crawford residence became 'The Hamilton Arms', a busy social centre and coaching inn on the London-Glasgow route patronised by a succession of distinguished visitors, including Samuel Coleridge and William and Dorothy Wordsworth. The changing pattern of urban development reduced the area to a quiet backwater, and from 1835 the building became the office for the duke's chamberlain, continuing to serve as the Hamilton Palace Estates Office until 1964.